TOBY
Toby Terrier was undoubtedly the star of the comic.His adventures,though sometimes fantastical and unbelievable,usually came about through a distinct dose of daydreaming!He and his mates Snowy and Ginger had all sorts of to-do's involving Snow Queens,Pteradactyls and even stranger individuals!But he always managed to get home in time for tea ;~)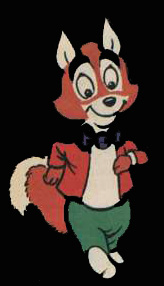 GOODY FOX
If someone other than me has written an article, I'll be sure to include a byline at the bottom.
Goody Fox was my own personal favorite.Every week,when the sun was shining of course,he tried his best to be good,much to the chagrin of his grandfather,Grandpa Fox.He believed his nephew should be like him and steal from Farmer Hayseed of Hayseed Farm and frighten rabbits and even eat them!But of course,Goody always did the exact opposite!
His adventures usually took place on Hayseed Farm or Friendly Farm,run by Mr. and Mrs. Daydream.Click on Goody to see some of the characters.
PIXIE FUN
Pixie Bumpkin was the star of this two page centrespread which besides Toby was the only regular character to appear in colour.His adventures usually occurred down on Clodhopper Farm,mostly trying to avoid work!Other characters peppered around the page were P.C. Bobby,Two Little Scamps and Mustard,3 Chums and Curly and a few jokes located above the title.Everything took place in Pixieland and none of the other characters met each other!